eii3.jpg
eii2.jpg
eii1.jpg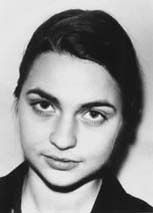 Ethical-Intuitive Introvert
EII – INFj – Dostoyevsky
The orientation of main functional block of EII: the conditions of normal life, harmony in human relations, the observance of ethical norms and morals, conservation of traditions. For purposes of this, EII devotes herself to improving and perfecting ethical values, strives to teach and cultivate moral refinement and spirituality in others, seeks veritable qualities in people.
Descriptions of the Strong Functions:
Fi
– Program function.
Introverted ethics in first function designate a person for whom the main orientation in life is making judgments about good and evil, morals and depravity, decency and dihonorableness. EII very acutely feels the general trends and standards of behavior which prevail in a society or a social group. She is usually mindful of these norms in order to not be insulting to other people. When she first joins a new group, she holds herself back and behaves tactfully conforming to established norms, meanwhile observing and assessing the psychological atmosphere. Once she has absorbed the existing atmosphere, only then she considers becoming a full-fledged member of the community and establishing her influence in regards to its psychological atmosphere.
When encountering people who are disadvantaged, outcast, unhappy, or weak she experiences a desire to emotionally support them and console them. Thus others will frequently refer to her with their troubles, and she will listen to their grievances and confessions sometimes for hours. She tries to sympathize, to enter their personal position, to feel their emotional pain as if it is her own, to accept the person and give them moral support.
EII is very sensitive and emotional, however, her introversion turns all her experiences inward, and thus these qualities are not always observable from the outside. Sometimes she appears as calm and impassive, but this impression is illusory, for every event, even those popularly deemed insignificant, leaves a trace in her soul that survives for a long time. As a rule, she represses her anger and irritation, and the desire to criticize others in herself.
One of the characteristic qualities of EII when she has taken offense is the creation of a psychological barrier between herself and the offender. In such cases, she take the position of emphatically cold politeness and answer all questions monosyllabically. For some people such behavior of this sociotype is difficult to endure; they'd prefer that the EII shouts or somehow expressed her anger and indignation. It is not an easy state for her either. However, if the offender asks for forgiveness and shows his desire to change the situation, then this state of offense may rapidly pass.
High emotionalism in combination with rationality frequently make the EII to focus on some past traumatic situation; she thinks it over and over again. In her consciousness, a center of excitation is created that overshadows all other aspects of life when this occurs. In these cases, she finds it difficult to focus on anything else. Mentally, again and again, she returns to the same point; she may speak repeatedly about it, and annoy others around her with these recollections.
Ne
– Implementation of the program.
To create harmony in life, EII searches for people' veritable, core values. These values she often finds in realm of ethical virtues and spirituality. Even in youth, through her imagination, EII forms a certain ideal that she attempts to reach. A feeling of obligation often lies at the foundation of her program function. Thus, the smallest divergence in behavior away from this ideal causes the EII to chastise and restrain herself. In this journey towards self-perfection, EII can become her own worst tyrant. This tyranny of this sense of obligation in its extreme manifestations can even lead the EII to develop contempt for herself. It can also lead her to feel contemptuous and critical of others, when their behavior fails to correspond with her ideal of decency and ethical values. This sort of maximalism, characteristic of EII in her youth, can lead to confrontations and conflicts with her peers, which weigh heavily upon her and are very trying for her.
Since her ethical ideal and norms, that she feels are compulsory to strive for, tend to be extremely high and difficult to live up to, she may gradually develop an increasing and continuous feeling of shame before everyone for her failings. Due to this feeling, with great difficulty does she assert herself and protect her rights. She considers that if she has failed in something – it is punishment for her mistakes. This sense of guilt can accompany the EII throughout her entire life.
She has little interest in career advancement and material values as main goals for her existence. The main thing for her is to find her purpose, to make something of her life before it passes by, to realize her innate abilities and talents. For the ideas that EII advocates, she is willing to go to the "executioner's bloc". In psychologically extreme situations, she does not care how others evaluate and judge her, because her own inner trials are the most severe ones. However, in ordinary situations EII prefers to avoid conflicts, assuming that kindness and decency are the best ways of resolving any misunderstandings.
Descriptions of the Weak Functions:
Se
– Painful function.
Witnessing instances of physical violence and application of force is usually unpleasant for the EII. She develops a negative gut reaction in response to physical punishments, abuse, and conflict, especially if these lead to someone's death, sometimes even if these are merely representations on television. Such spectacles incite in EII the desire to put an end to violence. Her protest becomes more vivid and sharp when she sees this happening in real life, especially if the abuse and punishment is directed at children.
EII considers that each person should aim for betterment, self-improvement and self-erudition, and harshness with which she applies this to herself is often unrealistic and inadequate for ordinary, real life. In this, the vulnerability of her weak sensing functions manifests itself. It should be noted that on vulnerable function, the person's reactions do not correspond to the circumstances – she can be both unjustifiably strong and too weak.
The EII is very sensitive to authoritative and overbearing notes in her address. Frequently she works haplessly at tasks due to her underdeveloped business logic. If, in addition to this, she is forced to do more, she interprets this as the underestimation of her diligence and may simply discontinue working, while an appeal to her feeling of responsibility can for long time keep her in the state of work activity.
The orientation towards the ideal, constant work on herself from one side, and the difficulty of emotional recharge from another, make the EII eventually feel tired of herself. This often lends to disorders of her nervous system. Contact with nature greatly assists her in her struggle to relax; instinctively she strives for a healthy mode of life.
In resolving problems that have to do with housekeeping, EII tends to be inefficient. To purchase quality food, to adequately suture a piece of clothing, to do laundry – on all of these she resolves expanding too much effort than is necessary. If it was up to her to dictate her life, she would wish to not have to deal with the chores. Yet the EII never ceases in spending too much time and energy on each task. She feels that she must maintain cleanliness and order, because she cannot live in disorder and she also considers it shameful to allow others to witness disorder in her living space. The absence of money greatly alarms and suppresses her, if this occurs, because she does not feel confident in her ability to obtain resources when they are exhausted. Thus she saves and strives to always have money around, just in case "for the rainy day". Weakness in sensing also manifests in her difficulty understanding whether some thing will be needed in future or not. Thus, she is prone to hoarding and keeping things for years, which most other people would have thrown out long time ago.
Ti
– Role function.
EII thinks over all her actions beforehand, defining concrete goals or imperatives that are of primary importance to reach. This approach does not always succeed due to her emotionalism which frequently pushes or pulls her away the original direction she planned to follow. Nevertheless she tries to organize her activity into a specific system, bring about order, which requires vast efforts from her.
The normative nature of this function in EII is especially clearly seen in how ardently this sociotype abides by the laws and regulations. She follows exactly the official norms and regulations that are endorsed in her society.
Trying to work as conscientiously as possible, EII doesn't always do so effectively. Thus she wastes much of her time in an unproductive fashion. She sometimes compensates for this by working from dawn to dawn. She finds it difficult to bind her workday within a reasonable framework: there always seems to be something that is unfinished. Frequently, she wants to realize herself in that which doesn't work out for her. As a consequence of her efforts at self-improvement, she sometimes wholly devotes herself to work, which contradicts her nature, but the feeling of responsibility exceeds her other needs.
EII at Work and at Home:
If the EII finds herself in a leadership position, the burden of responsibility not only for herself but also for her coworkers weigh heavily on her and present a difficult challenge. She deeply feels any mistake, any mishap, trying at best of her abilities to complete the assigned work. Occupying a position of management, the EII is able to conflict with inconsiderate and shirking subordinates, or even with higher authorities, if she senses that the interests of her collective are being unfairly infringed or disregarded. In both cases, at the forefront is not her personal interest but the feeling of responsibility for her project and her workgroup.
In relation with subordinates the EII prefers to keep honest – more often will deny something than make a promise that she cannot fulfill. For her an ideal situation is when her subordinates also like minded people who share in her ideas, with whom EII can work together towards a common cause. She evaluates people, not according to what position they occupy, but whether they have personal qualities which correspond to her ethical standards.
Since warm, friendly relations, trust, an atmosphere of love and mutual understanding, are the main program for EII, a large part of her life is her family, where, in ideal, she hopes to realize this program. Unfortunately, relations frequently prove to be distant from the ideal, and this circumstance is the most traumatic for EII, who is very sensitive from one side, but externally restrained from another.
EII rarely considers cheating, not because she fears her partner finding out, but because it contradicts with her ethical norms. Even if her relations with her spouse are not great, she will all the same try to maintain benevolence and warmth in the relationship; it happens that EII will sacrifice herself for the sake of her children.
Summary of Functions:
1.
– The main interest of EII is focused on the moral norms of behavior, considers it necessary to listen to all whom require their sympathy and help. Very emotional but believes that one ought not to concentrate just on the bad things, but to seek the positive sides of life.
2.
– Possesses an excellent eye for promising long-range opportunities; knows how to manipulate variants and select the most promising one. Prefers methodical activities, is frequently disturbed by the future.
3.
– Relates poorly to anything involving violence. While on one hand they resist external pressures, on the other they're prone to tyrannize themselves internally. Find it difficult to efficiently complete household tasks, organize their budget, and purchase necessary things.
4.
– Subordinate themselves to a system of order so long as not they're not forced. Does not develop interest in theories of an abstract nature. Not always capable of organizing work efficiently, spends much time ineffectively spending resources, capable of overworking in order to make up for this.
Professional Assessment:
Their abilities can be well applied within the spheres of spiritual knowledge, enlightenment and religion. Can also teach, the EII feels a particular propensity towards psychology. Many representatives of this psycho-type realize themselves in art, but only if not related to performing in front of a large audience; also can successfully teach humanities/art.
Career Possibilities:
Social Worker
Journalist / Novelist / Editor / Critic:Art, Film / Translator
Psychologist / Counselor / Psychiatrist
College Professor: Humanities / Teacher
Missionary / Church Worker / Minister / Priest
Researcher / Social Scientist / Biological Scientist / Laboratory Technologist / Environmental Scientist
Computer Programmer / Software Developer / Video Game Designer
Engineer
Dietician / Nutritionist
Artist / Musician / Designer / Architect / Creative Media Producer / Playwright
Legal Mediator
Physician / Public Health Nurse / Physical Therapist / Medical Assistant / Veterinarian
Relations:
Potentially Favourable:
LSE (ESTj), SLI (ISTp), LIE (ENTj), ESE (ESFj), SEI (ISFp), ILI (INTp)
Potentially Adverse:
SLE (ESTp), SEE (ESFp), ILE (ENTp), LSI (ISTj)
See also:
Wikisocion - EII profiles
EII observations
EII in pictures
Type examples in videos
Socionics Type Tests
Typing Questionnaire
(including photos and/or a video in your questionnaire thread tends to increase the number of replies and accurate typings)
.