[ame="http://en.wikipedia.org/wiki/Leary_Circumplex"](from wikipedia)[/ame]


Interpersonal Circumplex


The interpersonal circle or interpersonal circumplex is a model for conceptualizing, organizing, and assessing interpersonal behavior, traits, and motives (Wiggins, 2003). The interpersonal circumplex is defined by two orthogonal axes: a vertical axis (of status, dominance, power, or control) and a horizontal axis (of solidarity, friendliness, warmth, or love). In recent years, it has become conventional to identify the vertical and horizontal axes with the broad constructs of agency and communion (Horowitz, 2004). Thus, each point in the interpersonal circumplex space can be specified as a weighted combination of agency and communion.




Character traits


Placing a person near one of the poles of the axes implies that the person tends to convey clear or strong messages (of warmth, hostility, dominance or submissiveness). Conversely, placing a person at the midpoint of the agentic dimension implies the person conveys neither dominance nor submissiveness (and pulls neither dominance nor submissiveness from others). Likewise, placing a person at the midpoint of the communal dimension implies the person conveys neither warmth nor hostility (and pulls neither warmth nor hostility from others).
The interpersonal circumplex can be divided into broad segments (such as fourths) or narrow segments (such as sixteenths), but currently most interpersonal circumplex inventories partition the circle into eight octants. As one moves around the circle, each octant reflects a progressive blend of the two axial dimensions.
There exist a variety of psychological tests designed to measure these eight interpersonal circumplex octants. For example, the Interpersonal Adjective Scales (IAS; Wiggins, 1995) is a measure of interpersonal traits associated with each octant of the interpersonal circumplex. The Inventory of Interpersonal Problems (IIP; Horowitz, Alden, Wiggins, & Pincus, 2000) is a measure problems associated with each octant of the interpersonal circumplex. The Circumplex Scales of Interpersonal Values (CSIV; Locke, 2000) is a 64-item measure of the value individuals place on interpersonal experiences associated with each octant of the interpersonal circumplex. The Person's Relating to Others Questionnaire (PROQ), the latest version being the PROQ3 is a 48-item measure developed by the British doctor John Birtchnell. Finally, the Impact Message Inventory-Circumplex (IMI; Kiesler, Schmidt, & Wagner, 1997) assesses the interpersonal dispositions of a target person, not by asking the target person directly, but by assessing the feelings, thoughts, and behaviors that the target evokes in another person. Since interpersonal dispositions are key features of most personality disorders, interpersonal circumplex measures can be useful tools for identifying or differentiating personality disorders (Kiesler, 1996; Leary, 1957; Locke, 2006).
History
Originally coined Leary Circumplex or Leary Circle after Timothy Leary is defined as "a two-dimensional representation of personality organized around two major axis".[1]
During the twentieth century, there were a number of efforts by personality psychologists to create comprehensive taxonomies to describe the most important and fundamental traits of human nature. Developed in 1957 by Timothy Leary, who would later become famous for his controversial LSD experiments at Harvard, the circumplex is a circular continuum of personality formed from the intersection of two base axis: Power and Love. The opposing sides of the power axis are dominance and submission, while the opposing sides of the love axis are love and hate.
Leary argued that all other dimensions of personality can be viewed as a blending of these two axis. For example, a person who is stubborn and inflexible in their personal relationships might graph her personality somewhere on the arc between dominance and love. However, a person who exhibits passive aggressive tendencies might find herself best described on the arc between submission and hate. The main idea of the Leary Circumplex is that each and every human trait can be mapped as a vector coordinate within this circle.
Furthermore, the Leary Circumplex also represents a kind of bull's eye of healthy psychological adjustment. Theoretically speaking, the most well adjusted person of the planet could have their personality mapped at the exact center of the circumplex, right at the intersection of the two axis, while individuals exhibiting extremes in personality would be located on the circumference of the circle.
The Leary Circumplex offers three major benefits as a taxonomy. It offers a map of interpersonal traits within a geometric circle. It allows for comparison of different traits within the system. It provides a scale of healthy and unhealthy expressions of each trait.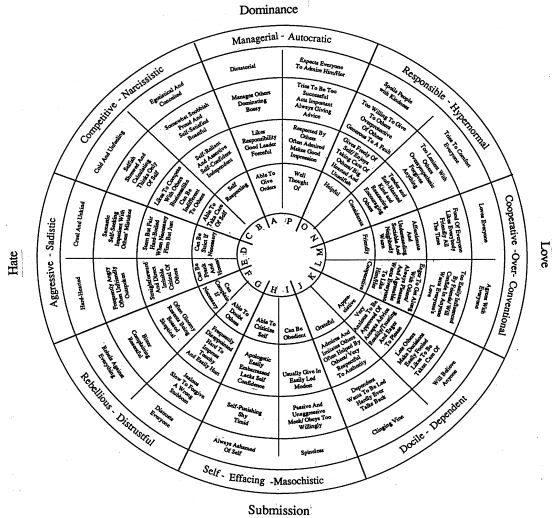 Leary's original circumplex diagram
(some more stuff- needs to be worked into above)
Interpersonal Theory: A Cord of Three Strands
The circumplex tradition in interpersonal psychology was inspired by the interpersonal theory of Harry Stack Sullivan (1953) and the sociological theory of George Herbert Mead (1934), and made more explicit and accessible to research by Timothy Leary (1957), who introduced the circular ordering of variables known as the interpersonal circumplex (see figure at left, a replica of Kiesler's 1983 circumplex taken from Gurtman, 1997). Interpersonal theory comprises three strands of leading ideas: the principle of complementarity, the principle of vector length, and the principle of circumplex structure.
The first strand of interpersonal theory is the principle of
complementarity
(Carson, 1969; Kiesler, 1983; Orford, 1986; Wiggins, 1982), which contends that people in dyadic interactions negotiate the definition of their relationship through verbal and nonverbal cues. This negotiation occurs along the following lines: dominant-friendliness invites submissive-friendliness, and vice versa, whereas dominant-hostility invites submissive-hostility, and vice versa.
The second strand of interpersonal theory is the principle of
vector length
, which contends that within diagnoses of personality type on the interpersonal circle, vector length (a measure of statistical deviance) is an index of psychopathology (psychiatric deviance; Wiggins, Phillips, & Trapnell, 1989). In general, people with rigid, inflexible personalities have more problems--even if such people are inflexible in a friendly direction--whereas people with flexible, adaptive personalities have fewer problems--even if such people are generally more hostile than friendly.
The third strand of interpersonal theory is the principle of
circumplex structure
, which contends that variables that measure interpersonal relations are arranged around a circle in two-dimensional space (Leary, 1957). A circumplex can be viewed in three successively more restrictive and testable ways. First, a circumplex can be viewed as merely a useful pictorial representation of a particular domain. Second, a circumplex can be viewed as implying circular order, such that variables that fall close together are more related than variables that fall further apart on the circle, with opposite variables being negatively related and variables at right angles being unrelated (orthogonal). Third, a circumplex can be viewed as implying exact circumplex structure, such that all variables are equally spaced around the circle (Wiggins & Trobst, 1997). Sophisticated psychometric and geometric tests can be applied to determine whether a circumplex meets the criteria for exact circumplex structure (Acton & Revelle, 1998).
(more to come)
Links
Tests and Inventories
Timothy Leary's Interpersonal Behavior Circle
Personal Inventory
Browser based Inventory
Interpersonal Adjective Scales Inventory
Interpersonal Theory: Papers Elsewhere
Interpersonal Theory: Links in This Website
Interpersonal Complementarity


This website describes the interpersonal principle of complementarity and includes a lengthy bibliography of complementarity references. By G. Scott Acton.


Interpersonal Theory Outline


This outline links to an interactive learning tool on interpersonal theory called an ASK system, in which links are based on questions that readers have asked or might ask. By G. Scott Acton.
Interpersonal Theory: Websites Elsewhere
1982 Interpersonal Circle


This page features Kiesler's version of the 1982 interpersonal circle. By Donald J. Kiesler.


George Herbert Mead (1863-1931)


This is a discussion of the thought of a philosopher and psychologist whose ideas influenced interpersonal theory. By George Cronk.


Interpersonal Circle Web Site


This website includes an overview of interpersonal theory and a discussion of measures representing the interpersonal circle. By James A. Schmidt.


Interpersonal Circumplex


This website describes the nature of the interpersonal circumplex and includes links and a lengthy bibliography of circumplex references. By Michael B. Gurtman.


Harry Stack Sullivan


This page features quotes from a psychiatrist whose thought heavily influenced interpersonal theory. By Brent Dean Robbins.


Harry Stack Sullivan (1892-1949)


These course notes discuss Sullivan's theory of human development. By Douglas A. Davis.


Society for Interpersonal Theory and Research


This organization's website contains conference information and links to other interpersonal resources.
Interpersonal Theory: Reference Sources
Interpersonal Theory References
This is a virtually complete list of references on interpersonal theory up to 1999. By G. Scott Acton.
SITAR: Recent Publications by Members
This is a list of recent publications on interpersonal theory. By the Society for Interpersonal Theory and Research.
Suggested Readings
A list of suggested readings on this topic is also available. By G. Scott Acton.